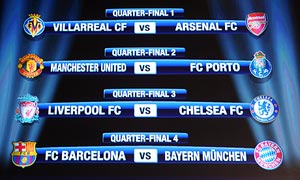 Most of what I am reading, including the quote provided by Kenez below, suggests that the English press have already put Arsenal into the semis, and are preparing for a battle against Manchester United. Surely that much talk will have a bit of an effect on the club, which is a positive for Villarreal. If Arsenal come in even half as overconfident as the prognosticators are, Villarreal will be in a good position. It is unfortunate that the first leg is at El Madrigal, but perhaps the reverse of the '05-'06 semifinals can have a positive effects on el submarino amarillo.
Kenez' quote from an unnamed English source:
"OK, so they aren't exactly byes, but Manchester United and Arsenal must be feeling absolutely delighted with that draw. They may well have to meet in the semis, but drawing FC Porto and Villarreal in the quarters has given them both an enormous chance of getting to the last four."
Here is the English-leaning Soccernet:
Manchester United and Arsenal can breathe easier. For now. Most would fancy them to beat their next opponents in Porto and Villarreal respectively. The big deal, notwithstanding the challenge of two opponents who are both experienced on the European stage, will be a potential semi-final. That could take place in the last week in April and first in May. The two are set to meet domestically on May 16 anyway, with a potential FA Cup Final to follow a fortnight later. United v Arsenal could yet turn out to be this season's drama mini-series ratings winners.
The Guardian, a more balanced approach:
For Arsenal, there are memories of 2006, Jens Lehmann and all that. The German keeper's penalty save against a clearly petrified Juan Román Riquelme took Arsène Wenger's team to the Champions League final. The Yellow Submarines, like Arsenal, only really know how to play pretty football and have a lot of small technicians in their team, so both will be relieved that this will not be a physical battle.
Thoughts? Is the result going to be written in English stone before the whistle is blown to start the match at El Madrigal? How do you feel about going back up against Arsenal?