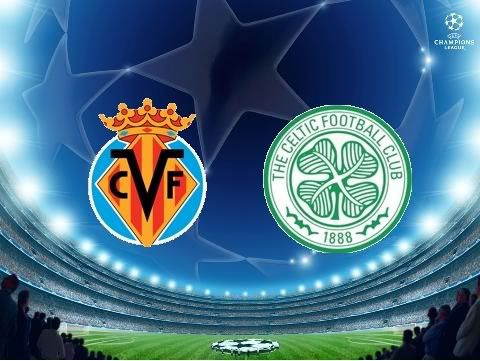 Champions League football returns to El Madrigal for the first time in two years and we will be hoping to keep our unbeaten record at home intact. Lets start with our squad :
Porteros: Diego López y Viera.
Defensas: Javi Venta, Ángel, Gonzalo, Fuentes, Godín y Capdevila
Centrocampistas: Senna, Eguren, Bruno, Edmilson, Cazorla, Cani, Ibagaza y Pires.
Delanteros: Guille Franco, Llorente y Rossi.
Matias and Cygan are left our for technical reasons and Nihat has a minor injury that will keep him out. Jozy Altidore is ineligible for the Champions League. We should be going for a 4-4-2 formation with Rossi most likely to partner the in form Llorente up front. I expect we will go for our best midfield with Santi, Senna, Eguren and Pires and also our strongest back four Venta, Gonzalo, Godin and Capdevila. We are coming off the back of three wins on the trot and are enjoying an excellent start to the season. It is vital that we take three points from Tuesdays game.
Celtic played out a 0-0 draw with Aalborg in their first match so a win for us here would put us in a commanding position to qualify. They have a dismal away record in this competition but they should not be taken for granted. I'm not too sure how they will line up (any Celtic fans around? an insight into your lineup would be helpful) but I do know that they have some real quality in the likes of Nakamura, Brown and Mc Geady and also two big and physical strikers Samaras and Vennegor of Hesselink. Their main threat will be from set pieces, Nakamura is one of the best dead ball experts on the world and they have a lot of height in their team. Their back four is not the quickest so that is something the likes of Rossi should look to exploit. If we play to our strengths and keep the ball moving quickly then we should be able to break them down.
They will battle hard there is no doubt about that and it will be a game for cool heads. Senna has to play this game, we will need his influence in the middle of the park. Big performances will be needed from the two attacking mids, most likely Pires and Cazorla. We have enough quality to beat them and if we get a lead then they will have to come out and we can then pick them off.
Prediction : 2 -0