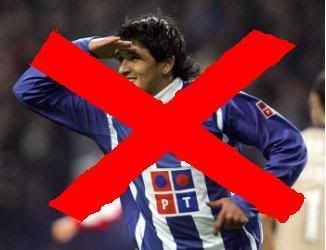 Well one Argentinean who will almost certainly not be arriving this summer is Porto's Lucho Gonzalez. Porto's president Pinto da Costa has come out and said that unless anyone comes up with an offer of 25 Million Euro's then Lucho will be going nowhere. This despite the fact that Lucho himself has stated that he desires a new challenge with Spain being his preferred destination. Villarreal had made a tentative offer of 14 Million but this was rejected rapidly by Porto and there is now little chance of this deal coming to pass. Roig and Co. will not be held to ransom and will never pay over the odds for any player.

With the above deal out of the question it now seems that we will be getting a different Argentine midfielder. Mallorca's 32 year old Ariel Ibagaza is said to be very close to boarding the submarine. A clause in his contract allows him to buy himself out for 1 Million Euro's. This is a very attractive deal for Villarreal,Pellegrini want's Ibagaza to add a bit of experience and a bit of class to our midfield.

In an injury update, Nihat is set to have his thigh operated on this weekend, it is not as soon as they had hoped because they had to wait for swelling to go down. If all goes well Nihat should be back before the season starts.