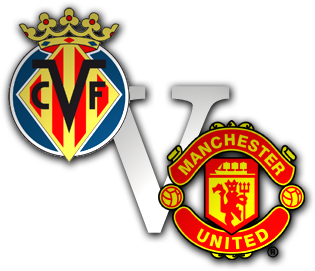 image credit Bel
We return to Champions League action to what could be the deciding match in the group. Both teams currently sit on 8 points with United ahead of goal difference. A win for either side would surely secure a first place position in the group and a more favourable draw in the next round. Domestically the weekend wasn't the greatest for each team. United looked toothless against Aston Villa in a 0-0 draw whilst Villarreal gave a disgraceful performance in their 0-3 defeat to Valladolid. The Champions League is a whole different kettle of fish however and I expect both sides to bring their A game tomorrow.
Lets take a brief look at the United side, recently they have been a much more potent attacking force than the one we faced earlier in the season but with talented Bulgarian Dimitar Berbatov out injured and Cristiano Ronaldo doubtful they are not at their strongest. Still they are the European and Premiership champions and with players like Rooney, Tevez and O' Shea they can demolish teams. Our defense will want to be a lot sharper than they were on Saturday. The United squad for the game is :
Foster, Kuszczak; Evra, Rafael, O'Shea, J.Evans, Ferdinand, Vidic; Fletcher, Possebon, Anderson, Carrick, Ronaldo, Park, Nani, Gibson, Giggs; Rooney, Tevez, Manucho.
Note that Ronaldo is included and could play a part. Rooney and Tevez are expected to lead the line with Nani, Anderson, Carrick and Park across the middle. O' Shea, Ferdinand, Vidic and Evra should make up the defense with Polish keeper Kuszczak between the sticks.
From a Villarreal point of view the game couldn't have come at a worse time. We haven't won in our last 3 games and with key strikers Llorente and Nihat out we are looking a bit short upfront. The display against Valladolid was very worrying, with Diego Godin out injured Pascal Cygan stepped into the centre of defense and we looked decidedly dodgy. Unfortunately we have no other options and I expect him to feature again tomorrow. In midfield we should line up as usual with Pires, Senna, Eguren and Santi and our only 2 available strikers Rossi and Franco should start up front. Rossi will have a point to prove against his former club and I would be delighted to see him score. Squad for the game:
Goalkeepers: Diego Lopez and Viera.
Defenders: Javi Venta, Angel, Gonzalo, Fuentes, Cygan and Capdevila.
Midfielders: Senna, Edmilson, Bruno, Cazorla, Eguren, Ibagaza, Pires and Mati.
Forwards: Guille Franco and Rossi.
Expected lineup :
López
Ángel - Gonzalo - Cygan - Capdevila
Cazorla - Senna - Eguren - Pires
Rossi - Franco
This is a big game for us and I'm hoping we can pull off a win, it will be tough but if we have real aspirations of making it in the big time then these are the games we have to win. Crucial to the game will be Marcos Senna and Eguren, one of them must sit back to break up United's counter attacks. We cannot afford to be as open as we were on Saturday or we will be ripped to shreds. I trust Pellegrini to have the team in the right mindset and I'm confident that we can score against this United side. Vamos!!!!
Prediction : 2 - 1